Permanent cosmetic enhancement is a revolutionary beauty treatment used to define eyes, brows and lips to give a soft, natural finish that imitates perfectly applied make-up.
MICROBLADING
Microblading is a relatively new, manual method of applying semi permanent makeup.
A very fine blade is used to deposit pigment into the epidermis and because the colour is implanted closer to the surface of the outer layer of skin, the strokes appear crisp and very fine.
This method is ideal for anyone wanting to enhance the look of their eyebrows with realistic looking, hair-like strokes, regardless of how thick or sparse the eyebrows are naturally.
People suffering from alopecia, trichotillomania or any other condition that causes hair loss benefit greatly from Microblading, as well as people who simply aren't happy with their eyebrows.
The pigments used have been formulated to match your original eyebrow colour, and if the eyebrows are still present, blend perfectly to match. The results are a natural, flawless, fuller looking brow.
The Microblading results can last anywhere from 12 to 18 months, depending on different factors affecting the procedure. However, a touch up once a year is recommended to retain the shape and colour.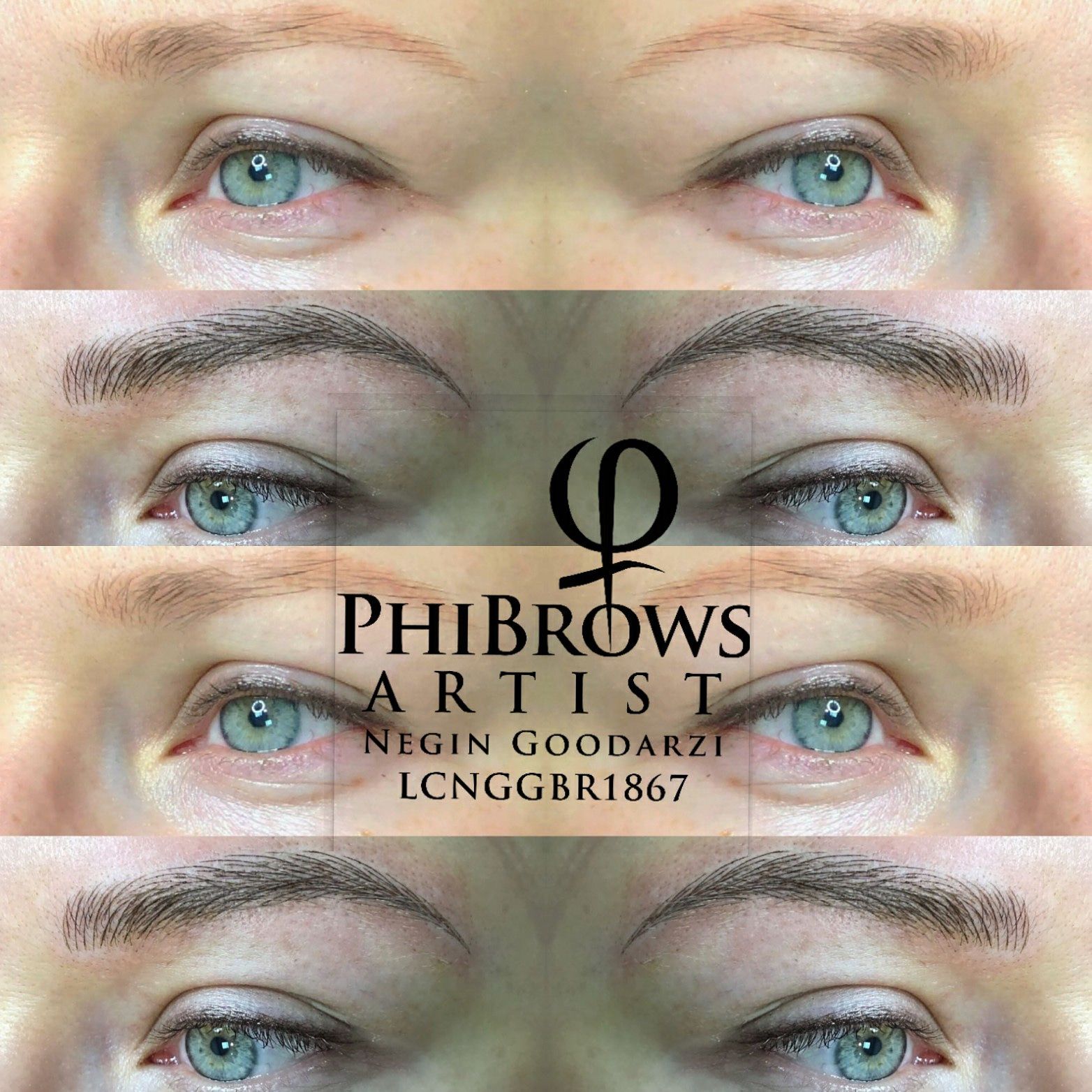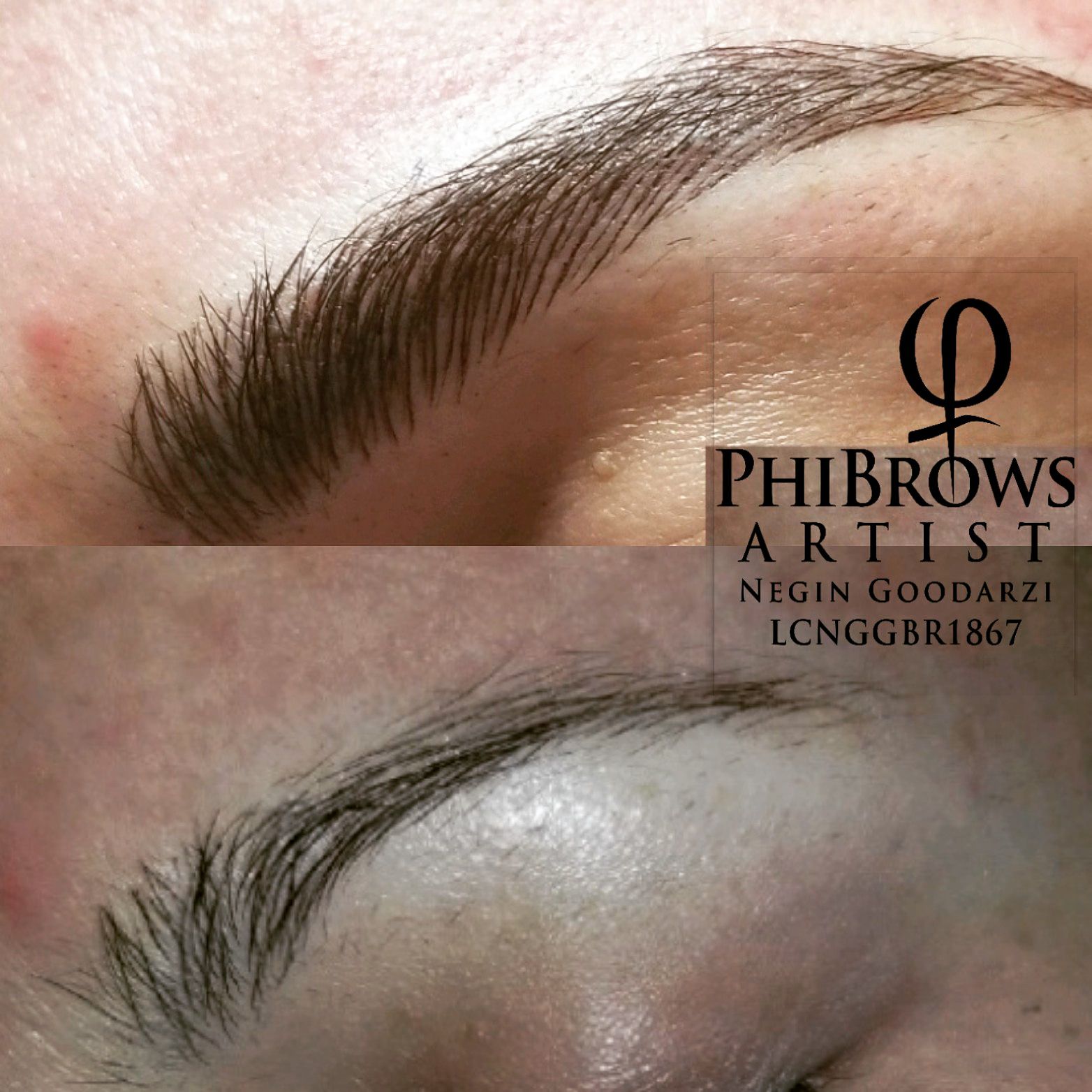 Microblading Microblading
PERMANENT MAKEUP
Semi-permanent makeup, sometimes called cosmetic tattooing involves delicately adding hypo-allergenic pigments in a range of shades to the outermost layers of your skin, most commonly the eyebrows , eyes and lips .
We all want to look good and feel great. Looking good helps you feel confident and ready to face the day, many of us struggle to find the time to apply perfect make-up every morning.
Semi permanent make-up offers an ideal solution, giving you defined eyebrows, wide awake eyes and fuller lips morning, noon and night. You will save time on your beauty routine every day.
Semi permanent make-up is a completely safe and effective form of cosmetic tattooing and works by implanting pharmaceutical grade pigments of your choice into the chosen treatment area. You may here the treatment described as 'Permanent' makeup and this is because the colour is being introduced into the upper dermal layer of skin and although the pigment will fade over time, it will often remain in the skin even if not completely visible.
Our treatments will give you a natural look which can last years, saving you valuable time and money.
 

BROWS

FULL EYEBROWS MICROPIGMENTATION £300.00

NATURAL LOOK HAIR STROKE MICROBLADING £300.00

*REFRESH UP TO 12 MONTHS £180.00

*REFRESH UP TO 18 MONTHS £200.00

EYES

TOP EYELINER OR BOTTOM EYELINER £200.00

TOP & BOTTOM EYELINER £350.00

LIPS

LIP LINER £250.00

LIP CONTOUR £400.00

REFRESH UP TO 12 MONTHS £150.00

REFRESH UP TO 18 MONTHS £200.00

All new procedures include 1 complimentary top-up to make any final adjustments to the treatment area. (within 4 - *6 weeks.)

*Colour refresh (yearly maintenance) treatments are one session only.

Please note: A deposit of £25 is required to book a consultation appointment. The deposit once paid is non-refundable, but will be deducted from the total cost of the procedure.